Limited-Time Offer: Hipa New Arrival Chainsaw Chain Sale Guide

Whether you're known as a project-minded DIYer or a homeowner who is looking for some saw chain replacement to prune large branches from the trees in summer, Hipa is here to make your summer worth loving and enjoying by kicking it off with a hot sale to fuel your summer fun! So, be the first to get your hands on it, and find your suitable inch chainsaw chain sale from Hipastore.com.
This new arrival sales week, you can forget about setup costs and feel assured to update your saw chain stock for a whole year's need, as the new arrival sale would always be the best time to get great offers. This week you can expect to a highly anticipated sale where you can enjoy 50% discount on your second chainsaw chain purchase!
Here are the basic details you should take note of:
Limited-Time Offer. The Sale is available to all Hipa users in the USA from May 26 to June 3 EDT.
Buy One Get One 50% Off. A customer who purchased one new arrival chainsaw chain can enjoy a 50% discount on a same second one.
The new arrival sale is not valid in conjunction with any other Hipa offers or promos.
Buy One Get One 50% Off Chainsaw Chains
 .325" Pitch .063" Guage 81 Drive Link 20 Inch
The chain is a low kickback chain designed for occasional chainsaw users including homeowners and landscapers. This .063" gauge, .325" pitch chain has low-vibration, semi chisel cutters design for durable performance and easy maintenance.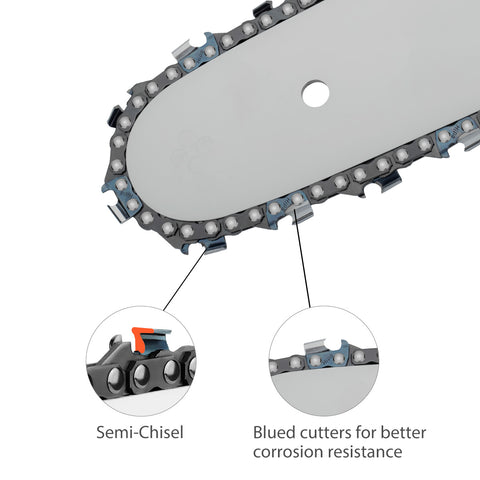 .325 Pitch .063 Gauge 18 Inch 74 Drive Link
The saw chain is ideal for light-duty work, because it delivers a smooth cutting experience and easy to maintain. The semi-chisel cutting design is durable and ideal for homeowners who need to cut the occasional tree limb, as well as experienced landscapers who have more frequent cutting needs.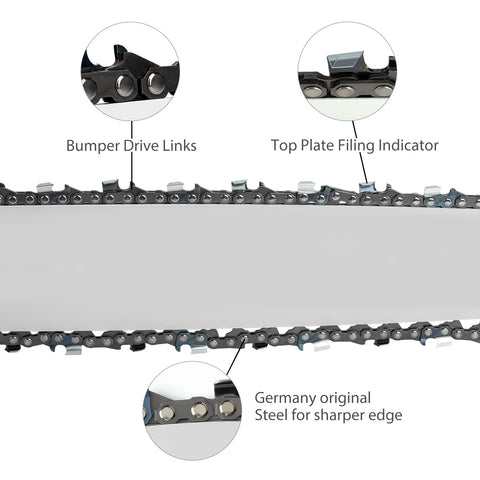 3/8" Pitch .043" Gauge 55 Drive Link 16 Inch
The saw chain is designed to fit most chainsaw models that require a 3/8 Inch low-profile pitch, .043 Inch gauge, 55 drive links. It's ideal for homeowners and landscapers, the low-vibration, low kickback semi chisel cutters offer longer durability for your green works.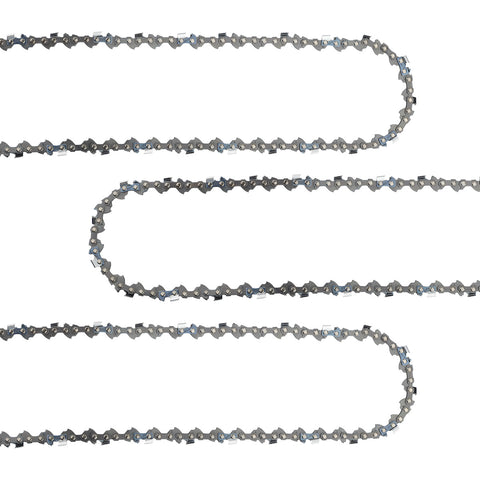 .325" Pitch .063" Guage 68 Drive Link 18 Inch
The saw chain is a .063" gauge, low-vibration chain for professional loggers and forest workers using .325" pitch saws. This chain features full chisel cutters that enable you to cut through tree limbs quick and clean with less effort. The precise heating process results in a uniform blue oxide layer on the surface of the components, which gives the chain excellent resistance to corrosion.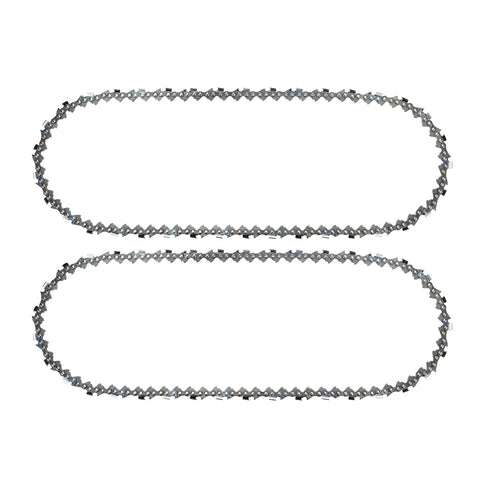 3/8" LP Pitch .043" Guage 44 Drive Link 12 Inch
This semi-chisel chain retains sharp longer in normal use and is easier to maintain and sharpen. The .043" gauge narrow kerf allows more power to be available for cutting. It is ideal for landscapers and homeowners using smaller chainsaws.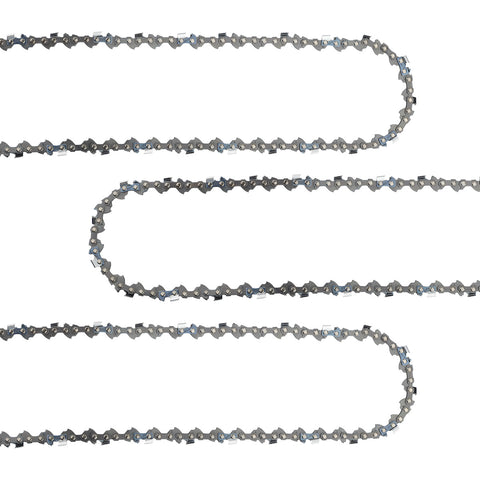 3/8" LP Pitch .043" Guage 50 Drive Link 14 Inch
The chainsaw chain offers higher cutting efficiency making it a smart choice for landscapers and homeowners who use small, low powered saws. The .043" gauge narrow kerf cutting systems increase efficiency since they need less power from the saw.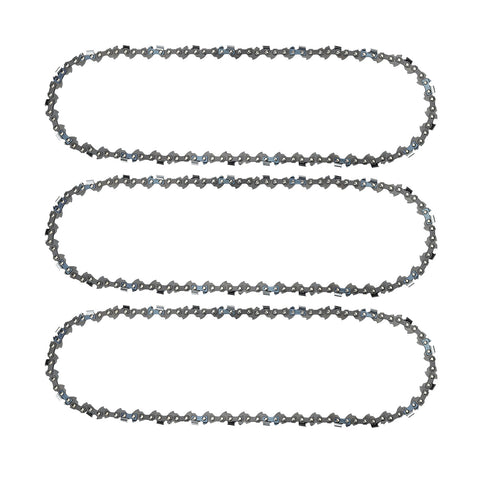 3/8" LP Pitch .050" Guage 55 Drive Link 16 Inch
This 20", 3/8" pitch, .050" gauge chainsaw chain features easy to maintain, low-vibration, semi-chisel cutters that work smooth and fast.
3/8" Pitch .050" Guage 72 Drive Link 20 Inch
The chainsaw Chain is a low-vibration, 3/8" pitch chain that is ideal for professional woodcutters. This 20", .050" gauge saw chain features full chisel cutters which offer top performance and smooth cut to the most demanding of professional users.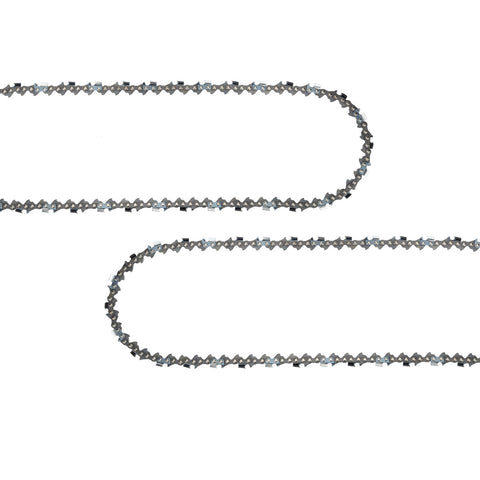 3/8" Pitch .050" Guage 84 Drive Link 24 Inch
The saw chain is a 24", .050" gauge chain for professional users who use 3/8" pitch saws. It features full chisel cutters for top performance which is ideal for high-production cutting.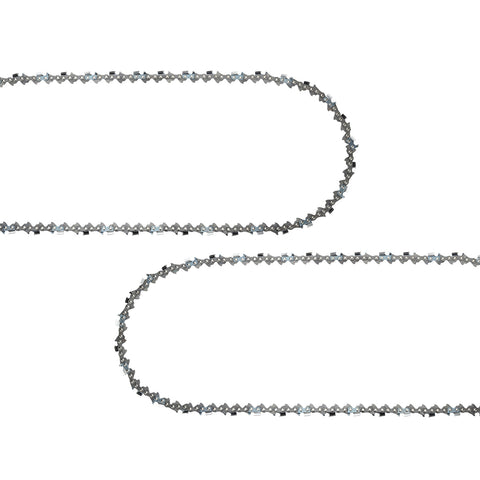 Why Choose Hipa?
All Hipa products are assembled with passion from decades worth of experience sourcing, producing and tuning high quality parts. Hipa chainsaw chains feature chrome plated cutting teeth and hardened blued links producing better wear and corrosion resistance. Our chains that feature anti-kickback technology makes them safer and more durable for the average homeowner and novice. Easy to install, great cutting and less time sharpening make Hipa a great choice for all your chainsaw needs.
Limited-Time Offer. Don't Miss out!
The new arrival sale is one of the best sale only comes for a limited time. You can check the above chainsaw chains and find if there's any things you want, and keep coming back to check out our new-in chainsaw chains as we has a full line of quality chains at sales prices with more sizes, types and styles added monthly.
Join the Hipa Community
The Hipa family is a global community of homeowner and professional people with a passion for the DIY repair. Join us to feature your passion with repair projects, share your stories with Hipa family and also get help from Hipa.