Simple Way To Fix A Sticky Pull Starter On Chainsaws, Weed eaters, Lawn Mowers etc.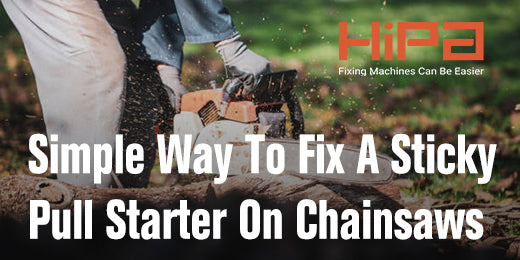 Recoils is one of the vulnerable parts in outdoor equipment like chainsaws, string trimmers, snow blowers, generators and so on.
After few month storage, it may be kind of sticky and hard to go back into the recoil assembly. Read though the blog and you will learn how to fix it simply rather than replace a new one.
Reason
As people put their equipment in storage every winter, what happens sometimes is that moisture gets inside where the recoil spring is. It causes a bit of rust, corrosion or condensation on the spring, making the cord go back slowly in the recoil.
Solutions
Solution 1
The first solution is the prevention before storage. You can spray some lubrication into the recoil spring when you actually put the equipment away for storage.
But there is a another possibility, the cord still does not retract properly after you did the prevention. If that is the case, you may need to tighten up the spring a bit. In detail, you can just pull out the cord a bit to make some slack, retrieve the cord with your pliers. And then by turning counterclockwise, you can tighten up the spring.
Solution 2
It is unnecessary to take off the recoil in solution 2. You just need to locate where the recoil spring is set in the assembly and use a can of lube to spray in the recoil spring that retracts the whole assembly or the recoil rotor. And you can even tilt your engine to make the lube fully down in the spring and leave it for about 10 seconds.
If you have trouble locating the recoil spring position from outside, you have to take off the recoil and spray the lube in the spring.
Now you can pull the cord and check if it can be retrieved as it should be.

Please let us know if this works and if you have any suggestions or comments. Or you can join us to feature your passion for repair projects, share your stories with the Hipa family and also get help from Hipa.