File Sizes for Different Chainsaw Chains
As a basic tool for chainsaw chain maintenance, the chain file plays an important role in prolonging the lifespan of your chainsaw. Cutting with a dull or blunt chainsaw chain will reduce your day's work efficiency. Instead of replacing a new chainsaw chain, sharpening it with a right size file would be a much more cost-effective way to get your chainsaw back to its previous glories.
The size of a chainsaw chain determines the file size and not all chains can be sharpened by the same size of chain file.
Now we will tell you something necessary about chain files, and add the file size chart at the end of the blog for your reference.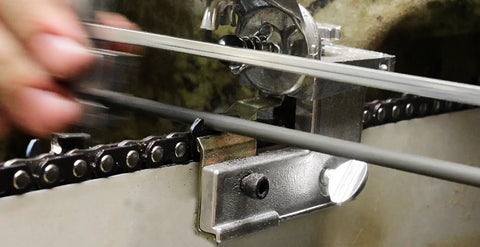 The file size is subject to the chain pitch of your chainsaw chain. The higher the pitch is, the bigger the chain file you'll need. If you sharpen your chain with a wrong size file, you may destroy the saw chain.
There are two common file types: round file and flat file. The round file is designed to sharpen the side and the top plate of the cutting teeth, while the flat one to sharpen the depth gauge. when choosing a right round file, you should make sure the file size is matching your saw chain size, while the flat file is for common use without much limit.
As you can see in the chart, the file size must match the chain pitch for accurate results. Please always look up the chart before buying a file so you know which right file to buy.
| | | |
| --- | --- | --- |
| Chain Pitch | File Size(in mm) | File Size(in inches) |
| 1/4" | 4.0 | 5/32 |
| 0.325" | 4.8 | 3/16" |
| 3/8" | 5.5 | 7/32 |
| 0.404" | 5.5 | 7/32 |
Please let us know if this works and if you have any suggestions or comments. Or you can join us to feature your passion with repair projects, share your stories with Hipa family and also get help from Hipa.