How to Tension Your Chainsaw Chain for Chainsaw STIHL MS 180
Always keep your chainsaw chain in proper tension as a loose one decreases cutting efficiency and safety. So how to adjust your chainsaw and what tools you need are what you should concern about. If these questions still baffle you, look through this step-by-step guide on how to tension your chain specifically for STIHL MS 180 chainsaw.
We'll take a Stihl MS 180 chainsaw as an example since the tension methods are much similar to different models.
You can either view our how-to video below for reference or read on for more details.
Preparation
Before the adjustment, you need to prepare some tools and put on gloves to protect yourself from the risk of injury.
A flat head screwdriver
A socket wrench
A STIHL MS 180 chainsaw
Steps to Tension Adjustment
Firstly, you should find the two nuts and one tensioner on the side plate.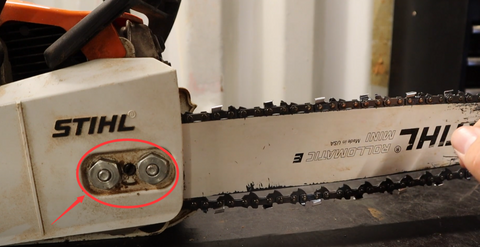 Loosen up guide bar nuts
Then, loosen the two nuts by using the socket wrench.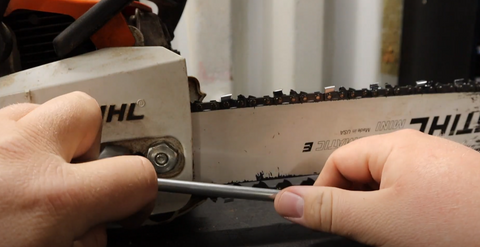 Tighten up the tensioner
After that, tighten up the tensioner a little loose. You can see an obvious sign that the under-sider of the chain would suck up to the guide bar while you tension the screw.
Continue to tighten up the tensioner until the saw chain fully gears with the groove of the guide bar and you can see all the tie-straps contacting with the guide bar slightly.
If you pull the saw chain along the upside of the guide bar to the guide bar nose several times, you will feel a little smoother.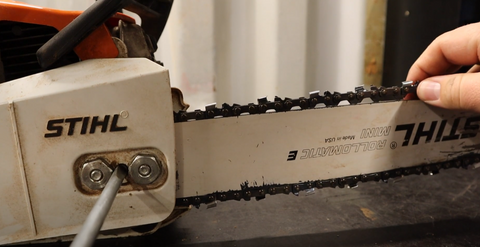 A simple chain tension test would tell you if your chainsaw chain is on a proper tension: pull the chain on the upside of the guide bar up with one or two drive links out of the guide bar, and. Release the chain, if it bounces back to the guide bar, then it's good.
Check regularly before cutting every time, and stop cutting if you feel the chain tension is too loose.
Tighten up guide bar nuts
At last, tighten up the guide bar nuts.
Product Recommendation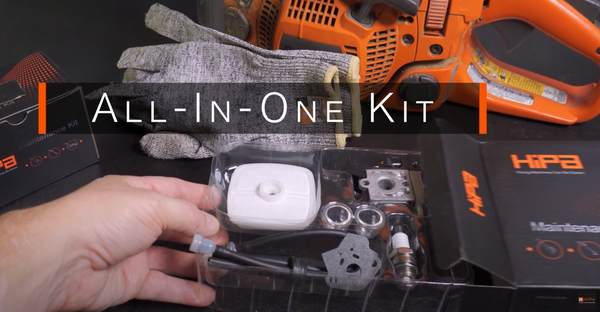 What is the Hipa All-In-One kit? Why you need it? How does it helps? Here is my another blog that explains these question: HIPA All-In-One Kit--The Ultimate Solution For Small Engine Maintenance
Hipa's parts kits make it quick and easy to maintain or restore your lawn and garden equipment. Whether you need replacement parts, tools, or help, hipastore.com has the small machine solution for you.