What Are the Differences Between Ripping Chain and Standard Chain
The ripping chain, an integral part of the chainsaw chain family, has its typical features and functions that may still puzzle many. Now we have sorted out information about the ripping chain and made a comparison to the standard chain below.
With the help of this blog, you will make a clear distinction between a ripping chain and a standard chain.
The ripping chain
Cutter teeth
The ripping chain features semi-chisel cutters at a special cutting angle of 10°.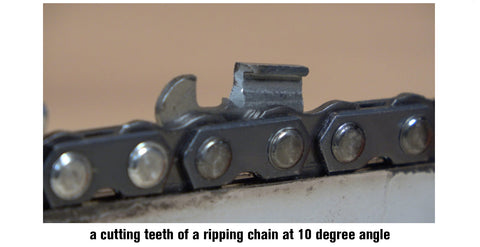 Cutting path
The cutter teeth with a specially designed angle make the cutting path smoother and shallower than the regular teeth of the standard chain. So if you pursue clear and smooth cutting results, the ripping chain is a good choice.
Durability
Due to the semi-chisel cutter teeth, the ripping chain contains the benefit of improved durability which makes the chain resistant enough to cutting damage and keeps the chain sharp longer. Furthermore, the profile of the chain gives off less vibration and kickback that contribute to prolonging the chainsaw chain lifespan and improving cutting safety.
Cutting Object
More precisely, the ripping chain is made for milling and cutting timber planks or, in other words, turning the raw timber into boards and planks. So if you are going to deal with some timber planks, the ripping chain must be a perfect choice.
The standard chain
The term "standard chain" does not mean a certain chainsaw chain, but relatively refers to chainsaw chains that are designed to crosscut timbers.
Wider cutting teeth and angle
The standard chain comes in full-chisel and semi-chisel varieties which are designed at steeper cutting angles from 25°to 35°.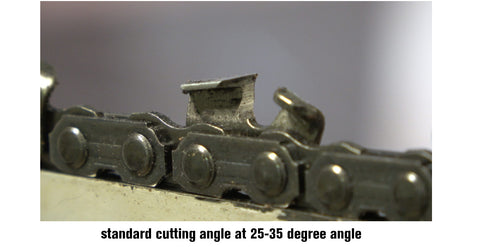 Cutting speed
A standard chain runs faster than the ripping chain which requires much time to mill the wood grain. It also means the standard chain dulls faster and needs more frequent sharpening than the ripping chain.
Versatility
Thanks to the types of cutters, the standard chain becomes the more versatile chainsaw chain for so different cutting jobs where the cutting surface is not the top priority, such as cutting firewood, cutting down trees, the general slice, and dice type work.
Conclusion
Straightly, choosing a ripping chain is based on the fact that you are going to handle some timber planks where the smooth and clear cutting results are the top priority. And these two chains differ in cutter teeth, durability, cutting speed, and versatility. 
Please let us know if this works and if you have any suggestions or comments. Or you can join us to feature your passion for repair projects, share your stories with the Hipa family, and get help from Hipa.