Why Won't My Chain Fit On My Chainsaw?
For home users, not everyone can find a suitable chain for their chainsaws, as the size of a chainsaw chain is defined by three essential parameters, the pitch, the gauge, and the number of drive links or the length of the guide bar. Therefore, the key to making your chainsaw chain fit perfectly on your chainsaw is to ensure these parameters of the chain are the same as those of your chainsaw, or you will never find a suitable chainsaw chain.
This article focuses on how to address this question effectively, and you will find the right way to get a suitable chain for your chainsaw after reading through this blog.
Step 1 Identify the Parameters of Your Chainsaw
Typically, there is a size stamp on the guide bar, which is specially designed to help users to purchase a suitable chainsaw chain when it comes to sawing chain replacement.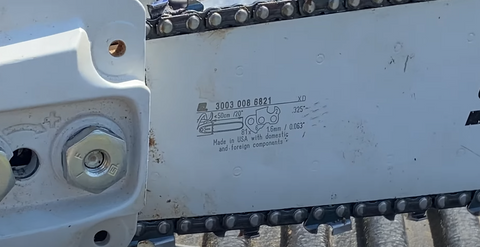 If the stamp has faded away, you have to measure these parameters by yourself. And if you have no idea on how to measure the pitch, the gauge, and the guide bar length or what these things mean, you can look through our other blogs for reference:
Except for those methods above, Google or other Internet tools are also helpful to identify what you need, you can search your machine model on some motor parts website to figure out the size numbers of the chainsaw chain. Or you can also offer your machine model to local retailers who are experts on motor parts.
Step 2 Check the Parameters of Your Chain
It is easy for you to check the parameters of your chain, as most motor parts sellers would print the parameters on the package surface or the instructions.
Conclusion
If there is a size number of the guide bar different from the number of the chain, the chain would never fit on the guide bar perfectly. So you have to make sure that these three numbers are the same as that of your chainsaw.
Please let us know if this works and if you have any suggestions or comments. Or you can join us to feature your passion for repair projects, share your stories with the Hipa family and also get help from Hipa.