What Is A Full-Skip Chainsaw Chain
In order to meet the cutting demands in complex environments, chainsaw chains have been divided into the full-house chain, the standard chain, the full-skip chain, and the semi-skip chain by the different sequences of cutter teeth. Here, we're focusing on an overview of the full-skip chain in three main aspects: feature, function, and safety.
If you are also interested in other types of chainsaw chains, you can read on this blog: what are the types of chainsaw chains.
Features

Compared with other chainsaw chains, the full-skip chain, with fewer cutter teeth and more gaps between cutters arranged on every three drive links, is invented for larger chainsaws above 24 inches.
Functions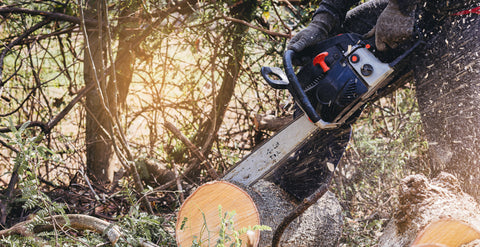 A full-skip chain is the best option for most cutting jobs that needs a long guide bar. Because skip chains on a large bar can deal well with large diameter timbers.
The fewer cutter teeth receive less drag, making your chainsaw run faster to perform an efficient cutting. The faster cutting speed makes the chain aggressive enough to cut large pieces of wood or cross-cutting sections of wood.
And the skip teeth chain also boasts clean cutting. The large gaps between cutter teeth make clean cuttings as the leaving space is capable of carrying out debris and the wood shavings, while other chains that have closer cutting teeth would cause sawdust to remain in the chain.
Safety
As a beginner-friendly chainsaw chain, the full-skip chain produces fewer kickbacks when it runs. Therefore, the full-skip chain has gained popularity worldwide, especially for those who have limited chainsaw chain experience.
The full-skip chain would not dull as quickly as other chains. If the skip teeth chain is dull, you can sharpen it easily by yourself, thanks to the wider gap between the cutting teeth. It is a good practice for beginners to learn the maintenance of the chainsaw chain. This means you can work with the full-skip chain longer and more efficiently.
Please let us know if this works and if you have any suggestions or comments. Or you can join us to feature your passion with repair projects, share your stories with the Hipa family and also get help from Hipa.