3 Tips to Upgrade STIHL MS 170 Chainsaw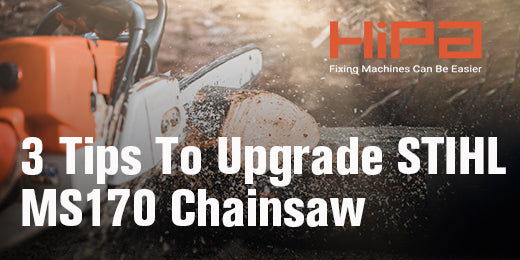 As one of the most popular chainsaws among homeowners, STIHL MS 170 plays a significant role in garden maintenance. Even if there are so many people having this saw, there are still some designs that can be upgraded to facilitate daily use.
1.Tensioner and Bucking Spike Upgrade
Tensioner
The chainsaw tensioner makes sure the correct and necessary tension of the chain. The chain tension mechanism in STIHL MS170 is normally located in the gap between the guide bar and the bucking spike. There are some homeowners complaining this is really a pain when it comes to chain tension adjustment.
Thanks to there is another placement in STIHL MS170 chainsaw to install a new tension mechanism, we can make it an upgrade:
STEP 1: You need to take off the chain and the bar carefully and clean up the machine if necessary.
STEP 2: Now you can pull the mechanism forward, and wiggle it back and forth to remove the tensioner.
STEP 3: Then slide the new tension mechanism into the machine as well as a little clip. And screw in a metal screw aside the mechanism.
STEP 4: Screw up the tensioner. If your screw is plastic, don't screw rather hard to avoid cracking or stripping.
Bucking Spike
Chainsaw spikes help to stabilize the saw when cutting through tough material, such as thick tree branches. The original one that comes with Stihl MS170 is too short to use efficiently when cutting tough wood. So considering the cutting safety and the cutting performance, it is necessary to upgrade the bucking spike.
2.Guide Bar and Chain Upgrade
Chainsaw undergoes tough situations like cutting, spinning, and bearing heat due to heavy objects. The guide bar and chain will be worn and torn over time, so changing a new bar and chain in time can help to improve cutting efficiency. If you find the old bar and chain have been worn out or working inefficiently. It is time to upgrade the chainsaw with a guide bar and a new chain.
A new guide bar and chain improve the cutting efficiency by about 16%.
If you have trouble replacing the chain, you can look through: How to Replace the Chain On A Stihl MS 180 Chainsaw for reference.
3.Carburetor Upgrade
As ethanol has been common in the gas nowadays, the metal carburetors can deteriorate so badly over time if the gas is left in the carb too long without being used. A bad carb makes your chainsaw run improperly or even fail to start up.
Therefore, the carburetor upgrade also matters. And new carburetor may strengthen dramatically the cutting performance by around 26%.
Hipa carburetors repair kit makes your equipment run like new again at an affordable price with other small parts like a spark plug, air filter, fuel line, and so on.
After you finish the carb replacement, you have to adjust your new carb to make your chainsaw run perfectly.
Additionally, you can try to clean the carb with step by step instructions: How To Clean the Carburetor In Generators.
And do not forget to check the linkage to the trigger after finishing carburetor replacement.
Product Recommendation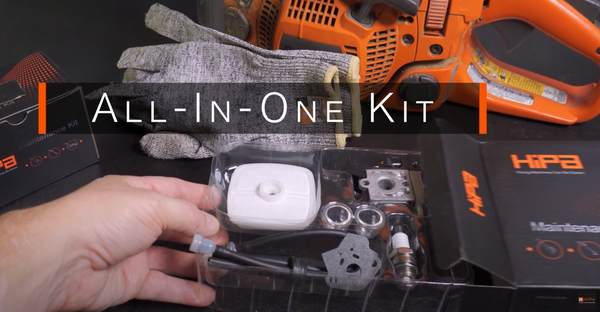 What is the Hipa All-In-One kit? Why you need it? How does it helps? Here is my another blog that explains these question: HIPA All-In-One Kit--The Ultimate Solution For Small Engine Maintenance
Hipa's parts kits make it quick and easy to maintain or restore your lawn and garden equipment. Whether you need replacement parts, tools, or help, hipastore.com has the small machine solution for you.