How to Locate Lawn Mower Model Number
Find the replacement parts you need to keep your small engine, lawn mower, chainsaw, bush cutter, snow blower, trimmer and other outdoor power equipment performing like new.
The fastest way to find the replacement parts you need is to offer us an accurate part number. We've met lots of our customers coming to us with a simple brand of their equipment only, which didn't help much in finding the exactly matched replacements for the equipment.
The product's model number is essential to finding correct replacement part numbers for your branded outdoor power equipment. To find the model number on your equipment, you may have to look in different places depending on what type of equipment you have.
For most equipment, there is only one model number. To locate the model number, check the label on the equipment frame or casing. In some cases, there will be two model numbers for one equipment: one for the engine and one for the equipment itself. The engine model number is often stamped on the engine itself,or near the spark plug or the muffler.
Model numbers can be made up of a combination of letters,numbers and hyphen (HLT26CD, for example). Your equipment's model number tag may look similar to the sample model number tags shown here (model number highlighted in red box):
Ryobi RTL-1000EX Trimmer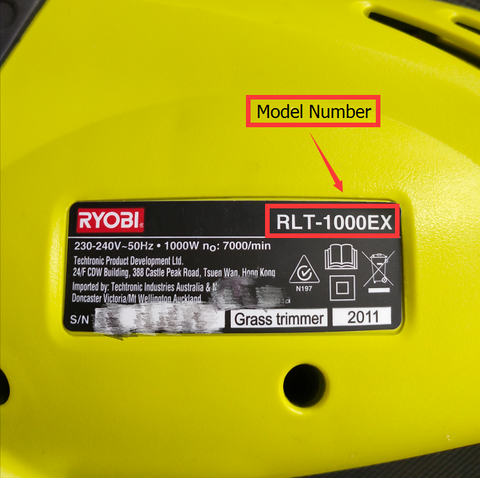 Homelite HLT26CD 26 cc Petrol Trimmer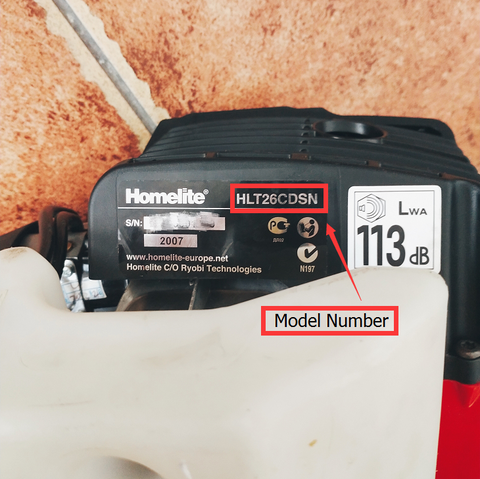 If your are still not sure where to locate your equipment's model number, turn to your supplier where you bought your equipment. A model number can also be found on the product manual you received when you purchased your equipment. Please note that the manual is generally designed for several different models. You are not likely to get an exactly right model number. In this case, you can send us the picture of your equipment, we'll see what we can do to help you out.
Please let us know if this works and if you have any suggestions or comments. Or you can join us to feature your passion for repair projects, share your stories with the Hipa family, and get help from Hipa.